At CR Languages, we believe in more than just language learning – we're dedicated to nurturing young minds and expanding horizons through our dynamic Mandarin Chinese and Spanish Junior Classes. If you're seeking to empower your child with the gift of language at an after-school experience that goes beyond the ordinary, look no further!
Our classes are not just about learning vocabulary – we're here to ignite a lifelong love for languages. We empower your child to read, write, and construct sentences in Mandarin and Spanish. With a focus on comprehensive language skills, your child will not only speak fluently, but also communicate confidently in these rich and vibrant languages.
Learning a new language should not only be about just words, we aim that our students understand the world. Our immersive approach doesn't just stop at language; it extends to exploring diverse cultures and traditions. As your child delves into the beauty of Mandarin and Spanish, they'll gain a deep appreciation for different ways of life and develop the open-mindedness needed to embrace our global community.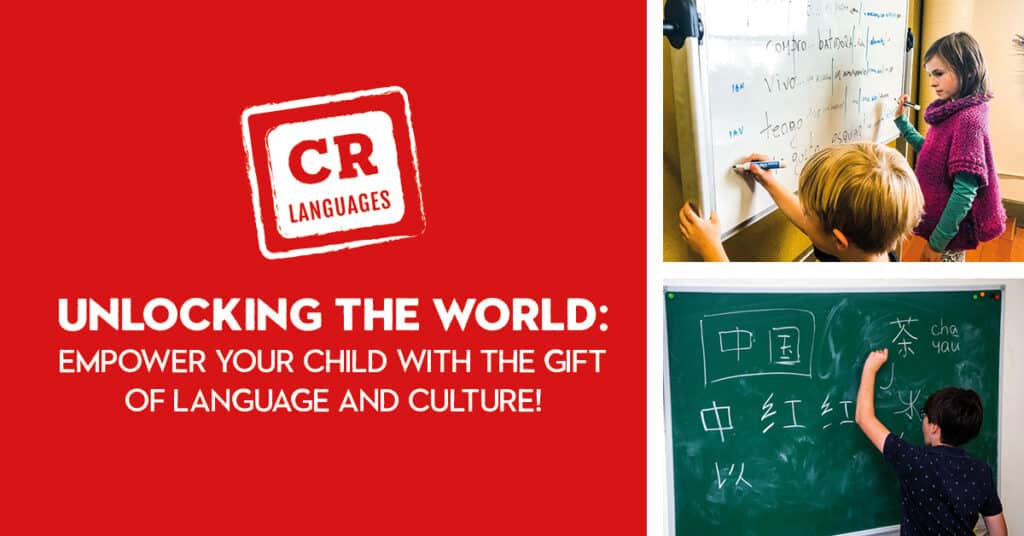 When your child learns Mandarin and Spanish, they're connecting with cultures that span the globe. Through exciting lessons, they'll discover where these languages are spoken, forging a connection between language and geography that fosters a keen sense of curiosity about our planet.
We are not just a daycare – we are a language school where young learners flourish. Our carefully designed curriculum, ensures your child's growth in language proficiency, cognitive skills, and cultural understanding. Join us as we create a stimulating environment that sparks intellectual curiosity and sparks lifelong learning!
Junior Classes
Spanish
Monday and/or Wednesday at CR Languages in Boise's Linen District
Ages: First, Second, and Third Graders
Starting dates: September 11th from 3:45-4:45 PM and/or September 6th from 4:15-5:15 PM
Mandarin
Wednesdays at CR Languages in Boise's Linen District
Ages: First, Second, and Third Graders
Starting date: September 6th from 3:45-4:45 PM
Give your child the gift of language, culture, and boundless possibilities with our junior classes. Enroll them in CR Languages' Mandarin and Spanish after-school kids classes today! Limited spaces available. Our classes have a maximum of 10 students only.
Secure your child's spot now and empower your child with the gift of language and culture. Contact us here: www.crlanguages.com.