Nestled in the heart of the Pacific Northwest, Boise, Idaho, is a hidden gem waiting to be explored. Often referred to as the "City of Trees, this vibrant city offers a unique blend of natural beauty, a thriving community, and a welcoming atmosphere.
In this blog, we will delve into what makes Boise a great place to live, work, study, and raise a family. From its scenic location to its diverse range of activities, Boise has something to offer everyone! Read on to learn more about Boise and why you should experience life here.
Location and Education
Located in southwestern Idaho, Boise enjoys a picturesque setting surrounded by the Rocky Mountains. The city benefits from a four-season climate, with mild winters and hot summers. Its proximity to outdoor recreational areas like the Boise National Forest and Bogus Basin makes it a haven for nature enthusiasts.
For those seeking educational opportunities, Boise is home to several renowned institutions. The city's commitment to education is exemplified by its excellent public and private schools, making it an ideal place to pursue higher education or raise a family. CR Languages is also located in Boise and offers a variety of in-person group or private classes as well as jobs for instructors looking to teach their native language.
Are you interested in joining a great team and learn the secrets of the language business through the instructor exchange program at CR Languages? Learn more here.
Boise's Cultural Scene
Despite its relatively modest size, Boise has a vibrant arts and cultural scene. The city is home to numerous galleries, theaters, and performance venues, showcasing local talent and hosting national acts. The Boise Philharmonic and the Boise Art Museum are noteworthy institutions that contribute to the city's rich cultural tapestry.
Food and Dining in Boise
Boise's culinary scene has been on the rise, with a myriad of dining options to suit all tastes. From farm-to-table restaurants serving locally sourced ingredients to international cuisine, food lovers will find themselves spoiled for choice. The Boise Farmers Market, open during the warmer months, is a great place to sample fresh produce and artisanal goods.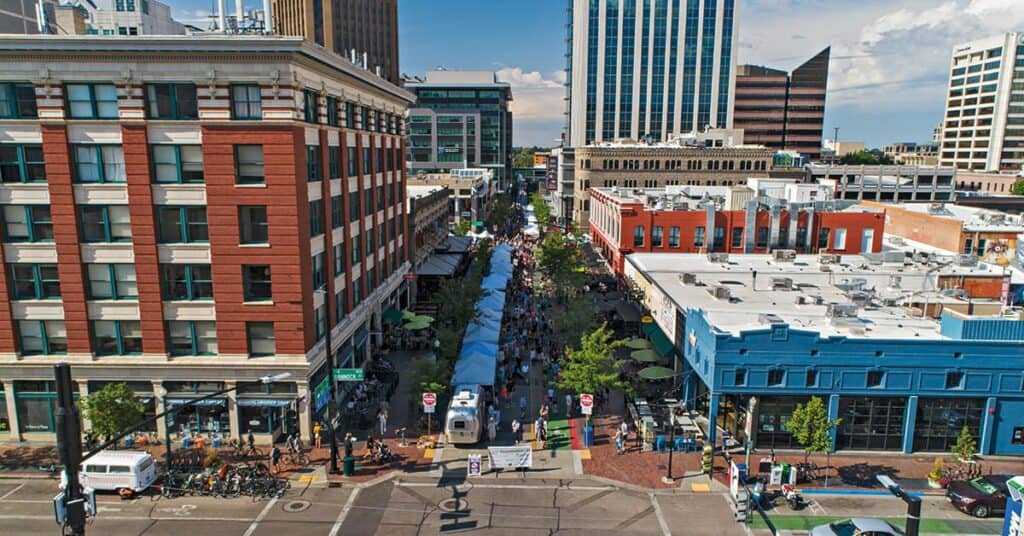 Diversity and languages spoken in Boise
Boise is a vibrant and diverse city that celebrates a rich tapestry of cultures and languages. Its multicultural makeup reflects a global community, making it a fascinating melting pot of diversity. The city of Boise is home to various languages spoken by its residents.
Alongside English, which is the predominant language, there is a remarkable range of languages represented. Some of the commonly spoken languages in Boise include Spanish, Vietnamese, Chinese (including Mandarin and Cantonese), Tagalog, Arabic, Russian, French, and German, among others. This linguistic diversity not only reflects the city's welcoming nature but also contributes to a thriving multicultural atmosphere, fostering understanding, appreciation, and the exchange of ideas between people from different backgrounds.
---
Boise, Idaho, is a city that blends natural beauty, a strong sense of community, and a rich cultural scene. Whether you're considering it as a place to come work, study, raise a family, or simply explore, Boise has something for everyone. With its picturesque location, educational opportunities, and welcoming atmosphere, CR Languages' home truly is a hidden gem waiting to be discovered.
Get in touch with us to discover the diverse range of programs and language classes that we offer in person in the heart of Boise, Idaho. Embrace the charm of Boise while immersing yourself in a welcoming and vibrant learning environment.
Our dedicated team of experienced instructors is committed to providing engaging and interactive classes that will not only boost your language proficiency but also foster cultural appreciation and understanding. With a focus on creating a supportive and inclusive community, our language programs aim to instill confidence and fluency, empowering you to communicate with ease in diverse settings. Experience the scenic beauty and outdoor opportunities that Boise has to offer while embarking on a fulfilling journey of language acquisition.