Can you guess how often we receive emails and inquiries asking us about classes for children from the ages of 3 months old to 5 years old? We get questions about whether there are classes for kids, if they can learn, if they can speak another language, etc, etc, etc, and want to let you know why teaching languages to children is absolutely a good idea!
The short answer is: YES!
CR Languages offers classes for kids and children are capable of learning another language at any age. When it comes to children, teaching from a young age is a great time to start.
In this blog, we'll give you some insight on when it's best to start teaching languages to children in part 1 of this blog series. Learn more about bilingualism in children and how to get started on your journey together as a family.
Bilingual Families
When it comes to children, they really are capable of learning anything! Here's some insight so you can make informed decisions about starting your child on their bilingual journey.
Bilingualism from birth is when two languages are learned from parents since birth. For example, one parent speaks English and the other parent speaks Spanish. The baby grows up hearing both languages equally and becomes bilingual naturally.
The problem comes when the child starts going to school — from preschool, kindergarten, elementary school, and beyond.
Consider Bilingual Schools
If the school is not bilingual, then the child who was brought up bilingual this far can potentially lose touch of the foreign language, unless they continue their education formally or the parents continue to speak the foreign language with them at home.
Otherwise we have a child who speaks two languages but can only write one. The child's communication is good, but limited because they do not study, read books, or write in that second language. Additionally, they are relegated to oral communication only, and it's not an educated second language. Eventually, the progression of the second language falls behind during the child's development and the child grows up mainly speaking the language they develop in school (and in every subject!).
If there is no bilingual school where the child can continue their studies, the ideal solution would be to help your child learn to read and write in that second language at home as they grow through their young years. It can be difficult to maintain the same level in both languages when children start school at a monolingual schools with a dominant language. The result of this can also be that the child starts to feel like they don't want to learn the second language on their own anymore, and we all know pressuring children is never a good idea.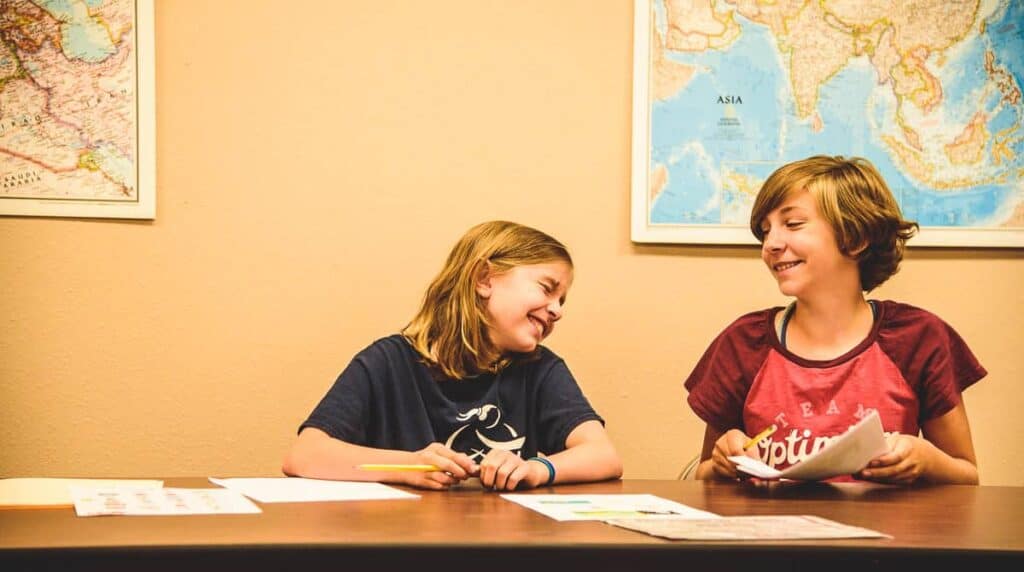 Non-bilingual Families
For children who are not born into bilingual family with parents who want their child to speak two languages, it's best to have the parents study a second language or at least one of the parents, and speak to the child from home. This is when it's important to take the child's age into consideration.
Having a child take private language lessons once a week when they are between the ages of 2 and 3 years old is not enough to see results, even with one-hour classes. But, if the parents use daily vocabulary at home, it will become normal for the child and in addition to learning words in another language, they will understand as they grow up that there is another world out there, that they themselves speak another language, and that opens the door to wondrous opportunity.
CR Languages offers various language classes for adults, including private, online, group, or in-person classes. Check out the adult class schedules here.
Children often like what their parents like as long as they don't feel that pressure to learn. At this age, I would not spend money for a language class of one or two hours a week. Having one or both of the parents learn and speak the language from home until the child grows older would be the best solution to starting the child's bilingualism journey early.
---
Start Teaching Languages to Children
From the age of 5 or 6, I'd start to consider having your child take classes once or twice a week for a second language. This would be for children who do not come from a bilingual home and want to actually learn this second language.
Now, watch out for those classes that always teach colors, days of the week, and parts of the body! Kids can learn to speak and write in a second language, not just to repeat basic vocabulary.
In this case, kids will learn a lot, but it also takes a lot of time. Be patient! But please don't send your children to any place where they are only taught to sing and repeat words. Don't underestimate children.
If you'd like to start your child's language learning journey with CR Languages, check out our classes for kids here! We offer private lessons starting for ages 3-16 years old.
If you have any questions, don't hesitate to get in touch with us today! We'd love to hear from you and help your child get started on their journey.