Private online classes are a great way for newcomers to start their language learning journey, especially if you learn better in a smaller setting. Private classes also provide more one-on-one time with the instructor, being able to get comfortable and form a connection. With CR Languages' private classes now being available online, the student can learn from the comfort of their own home, or wherever they may be! CR Languages also offers rates for same time every week or flexible schedules.
So, what are the private online classes like with CR Languages? For private online classes, you meet with only the instructor on a video meeting link called Whereby, similar to a FaceTime or Zoom call. There, you converse one-on-one together, go over the lesson, ask questions, and use the chatbox to message each other during the lesson. You'll use a book in class so classes are structured. This also helps you with your homework assigned at the end of the lesson and what to expect next. Plus, if you ever have to change teachers, your learning will be consistent regardless of who your instructor is.
We recently had a beginner student, Kenzie, join CRL for her first ever private online Spanish class! She said it was easy to get comfortable after a few minutes and focus on learning with the instructor. Read more to learn about her experience as a beginner student starting her language learning journey!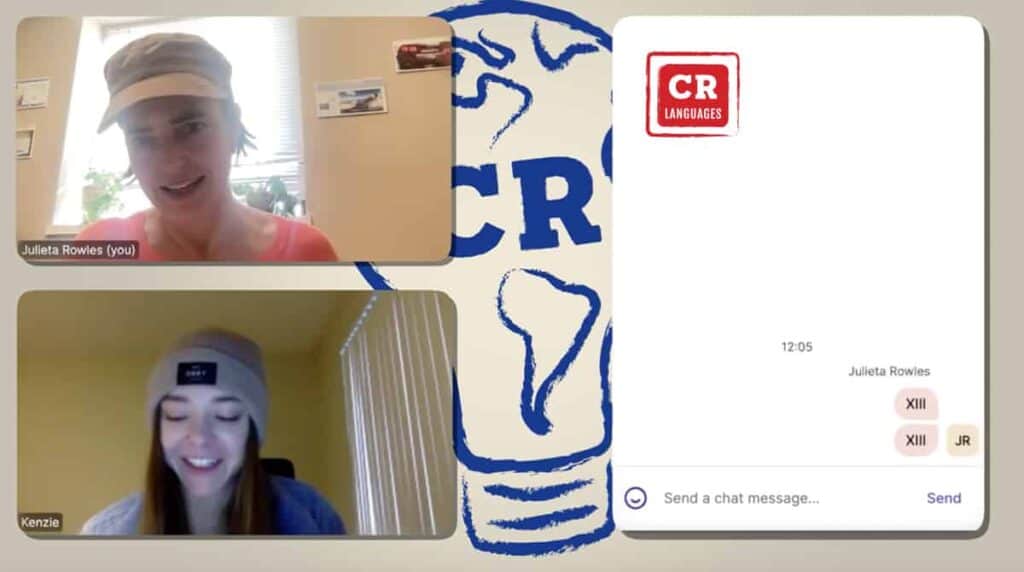 A Student's Perspective
"I chose private online classes because having a flexible schedule is super important to me! I have health issues so some days I don't feel the best and would prefer to not go in person. I also chose a private class to be able to learn more closely with the instructor and converse one-on-one. The experience was awesome! It's like any other online video call, and there's a chatbox the teacher and student can both utilize while talking. The lesson lasted one hour and since it was a Spanish class, I had the CRL Spanish Intro book to follow along. 

I really liked being able to converse with the instructor from home, like a Zoom call, and using the chatbox to define certain sounds I wasn't able to pick up on. It was actually really nice to get comfortable fast and focus on the learning!

I've been wanting to learn Spanish fluently for the past few years because of friends, community, and the job I currently have. Taking this class with CR Languages was my first step in that direction.

I am 100% a beginner because I wanted to learn French and ASL in high school. It was very important for me to feel comfortable and safe from the beginning and I'm happy the instructors at CRL provide that assurance, especially Julieta!"

– Kenzie
Start Your Journey Privately Online
Starting your journey of learning a second language is going to be beneficial for you to be able to connect, communicate, and be apart of a wide community. There are many benefits of starting the learning journey privately online — for the comfort, convenience, and flexibility.
Being able to learn from a comfortable setting or wherever you are is a huge advantage of the private online classes option. Most students take classes once a week (you can do more if you want, and with more flexible schedules).
Are you ready? Get in touch today to get started.